COREY HORNE
Back to Images of Corey's Paintings
ARTIST STATEMENT:
"An intimate conversation; a pure moment,
quiet yet profound.
An ageless truth; a yearning; a nostalgic memory.
A parable; a simple bliss found or journey to be taken.
These are my inspired images reflecting the sacredness of nature
juxtaposed with the human condition.
Private vignettes of our inherent aloneness
as well as the power of our unity.
Allegories of life; peaceful meditations.
Virtues of patience and perseverance;
fruit that nourishes the soul.
Great potential on the verge of subtly bursting out."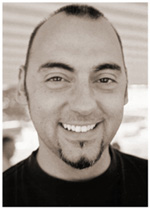 Corey John Horne is a self-taught artist who has been developing his own intuitive painting style and technique since he was a boy. Corey is native to and currently resides in Denver, Colorado, where he is a part of the Neo Art Studios, above Grace Gallery in the heart of the Denver Arts District. For fifteen years he was a successful self-employed Decorative Painter for the Interior Design trade in Denver, Colorado. In 2006 Corey moved to New Mexico and created and opened the celebrated and enigmatic Rockpaper Gallery in the satellite art colony of Madrid, NM. Corey returned to Denver in 2016. Corey John Horne has been in several solo shows, and was a selected artist at the Colorado Arts Festival.
INDIGO GALLERY - 2860 D. State Hwy. 14 - Madrid, New Mexico - 505-438-6202
Mailing Address: 2854 D. State Hwy. - Madrid, New Mexico 87010