DEA GOLDSMITH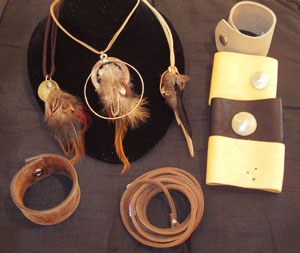 Dea grew up in the mountains of Lake Arrowhead, California with her mother and three siblings. As a child, Dea was constantly exposed to art. Her mother is a photographer, artist and writer. Her grandmother was a seamstress and made dolls in her spare time. She was fascinated by the ways they expressed creativity in their dress, jewelry and environments. These two women inspired her to become an artist herself.
Dea was soon accepted to the Art Center in New Mexico where she was trained as a designer and illustrator with an emphasis on mixed media, watercolor and gouache. After working as a designer for several advertising agencies, Dea decided to open her own advertising agency. In 2007, she became co-founder and creative director of Echo-Factory, a full-service advertising agency in Southern California.
In her free time, she began making jewelry for herself, then friends and family, using found and natural materials to create the pieces. A self-proclaimed nature lover, Dea draws inspiration from natural beauty and works to recreate that beauty in her art. She makes jewelry as well as assemblage art almost exclusively with found objects, natural metals and stone. The leather she uses is repurposed from the scraps used to make coats, purses and other accessories. The clasps and chains are repurposed from old jewelry.
Dea's jewelry also reflects her passion for travel. Some of her pieces are made with stones, gems, wood or other materials from the places she has visited. It is her way of infusing her experiences into her art.
Dea still resides in Lake Arrowhead with her husband Mark and her son, Cleigh. They enjoy mountain biking, running, surfing, water and snow skiing and simply being outside.